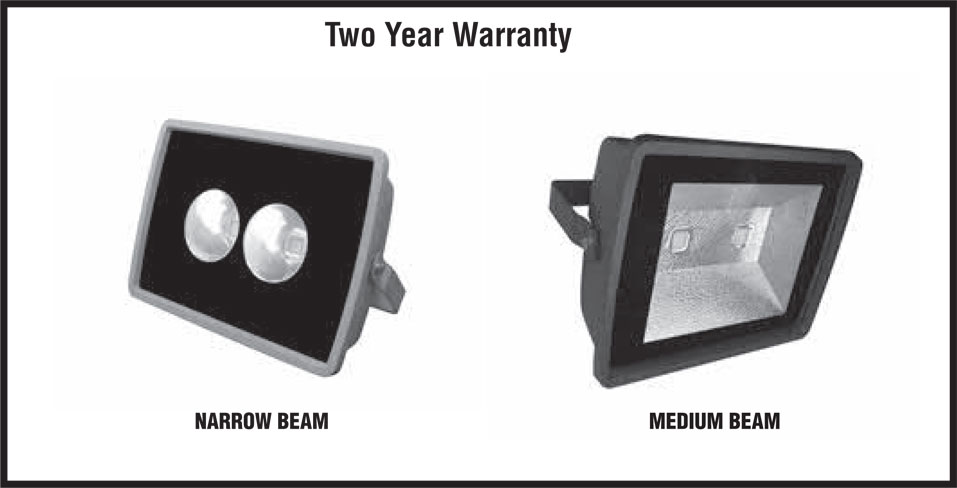 200 WATT LED FLOOD LIGHTS
Introducing high lumen output LED Flood Lights using proprietary single powerful 100 Watt LEDs as the light source, it's now possible to provide high bay flood lighting.
Because the LED does not contain toxic Mercury, your lighting is much safer. These LED lamps have an average lifetime of 50,000 hours giving you many years of maintenance free usage.
| | |
| --- | --- |
| FL200-100-277 | 200 W Medium Beam LED Flood Light, 100-277 VAC (120/240/277 VAC) |
| FL200-100-277NB | 200 W Narrow Beam LED Flood Light, 100-277 VAC (120/240/277 VAC) |
| FL200-250 | 200 W Medium Beam LED Flood Light, 250 VDC |
| FL200-250NB | 200 W Narrow Beam LED Flood Light, 250 VDC |
| FL200-480 | 200 W Medium Beam LED Flood Light, 480 VAC |
| FL200-480NB | 200 W Narrow Beam LED Flood Light, 480 VAC |
SPECIFICATIONS:
Body Material: Aluminum die casting
Dimensions: 21.73″ long X 15.69″ high X 6.77″ deep
Weight: 38 lbs.
Color Temperature: White 5000-6500K
Wattage: 200 Watts, .827 amps @ 240 VAC
Average Life: 50,000 hours
Lumen output = 95-100 Lumens/Watt
Ambient temp = -25C+60C
Viewing angle: Narrow Beam = 60 D. Medium Beam = 120 D.
Voltage: 100-277 VAC 50/60 Hz., 480 VAC 50/60 Hz. & 250 VDC
DC Models polarity protected with MOV included for spike voltage protection
IP Degree: IP65 = dust and water jet protection
All Models feature High Temperature Vycor Tempered Glass Covers
Certificates: ETL Pending, CE, RoHS, & GS