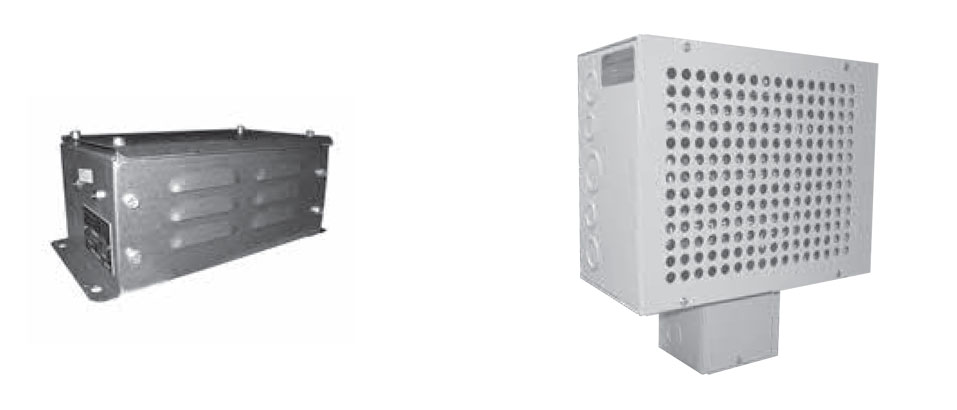 400 WATT BALLASTS
Solve 250 VDC cranelight lighting by installing MERCURY VAPOR resistor ballasts. Convert fragile, short life incandescent lighting into heavy duty long life mercury vapor.
1000 WATT BALLAST
The resistors employed in these ballasts are wire wound on ceramic cores. The enclosures are heavy gauge steel with the outdoor 400 Watt version in a NEMA 3 louvered box.
MODEL NUMBER
LAMP TYPE
OVERALL DIMENSIONS
TBA14MVB Supercedes 2500A & 2600
1- 400 W. H33-1 Indoor/Outdoor
13.5″ H X 7″ W X 5″ D
2700
1- 1000 W. H34-12 Indoor
14″ H X 12″ W X 6″ D
NOTICE: The above Resistor Ballasts are for 250 DC Cranes and not for general illumination
SUPER HEAVY DUTY SHOCK MOUNT

Extend lamp life with this cast aluminum shock mount. The lighting fixture floats on a solid rubber base that absorbs shock and vibration. A ground connection is installed between the top and bottom of the shock mount for added safety.
100% weatherproof
Extra thick casting
1/2″ or 3/4″ IPS models
| | |
| --- | --- |
| SM-1/2 | 1/2″ IPS SM |
| SM-3/4 | 3/4″ IPS SM |
HEAVY DUTY SHOCK MOUNT

This combination shock mount and junction box protects against shock and vibration while offering the added feature of a junction box.
The shock mount must be ordered with the junction box. The junction box can be ordered separately.

Four bolt flange base shock mount.
3/4″ IPS inlet each end, solid cover junction box.
3/4″ IPS for swivel arm.
| | |
| --- | --- |
| P-19 | Shock Mount |
| 211 | Junction Box |