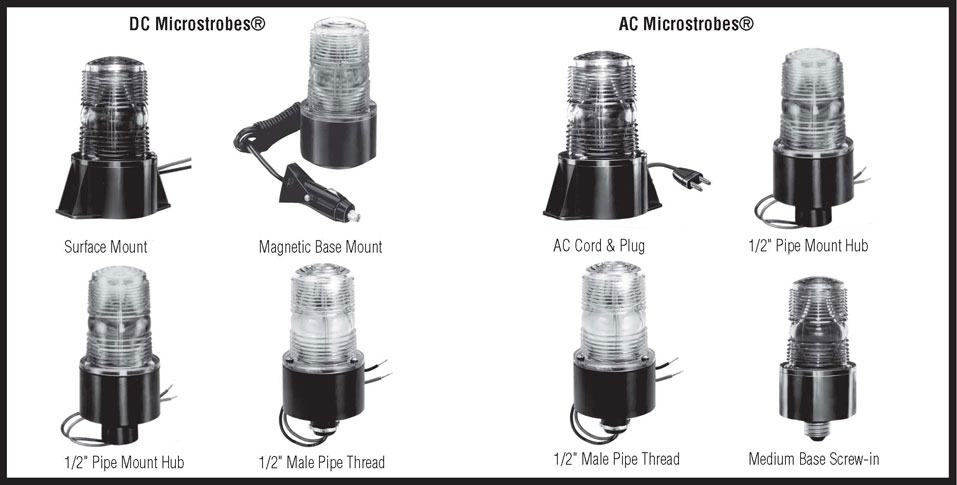 FORK TRUCK STROBES – DC Models
The MICROSTROBE® IV strobe family is an enhanced version of the MICRO III featuring a new screw-on 100% water-tight lens and power supply which can operate from a very wide input voltage range of 12 through 80 VDC or 16 through 24 VAC. The supply has a regulated output so that the lamp brightness and flash rate remain constant over the entire input voltage range. The power supply is potted in polyurethane for the ultimate in protection from shock and vibration. The enclosure is 100% Lexan Type 4X, and the plug-in strobe lamp is field replaceable. All unts are polarity protected and have built-in filters to protect against radio interference and spike voltages. The MICROSTROBE® IV is protected with a
TEN YEAR WARRANTY
. See opposite page.
SPECIFICATIONS
Intensity
CLEAR
50 Candela
AMBER
40 Candela
BLUE
20 Candela
RED
10 Candela
GREEN
20 Candela
1.75 Joules per flash, power supply output 2.7 Watts
60 to 80 flashes per minute
UL component listed, type E, ES & EE Electric Trucks
5″ tall X 3″ Dia., 0.6 lbs.
TEN YEAR WARRANTY
470S-1280
Surface Mount
470SMB-1280
Magnetic Mount with 6 ft. cord & cigar plug.
490S-1280
1/2″ Pipe Mount Hub
495S-1280
1/2″ Male Pipe Thread
470SMB-1280/CC
Magnetic Mount w/ 10′ coiled cord & cigar plug
Options & Parts:
G470
Guard
5001
Flashtube
470S-L
Lexan Lens
BKT
L Mounting Bracket
LBO
180 Degree lens black out (NC if ordered with unit)
MICROSTROBES® – AC Models
For general purpose visible signals the versatile MICROSTROBE® does it all. Choose from several mounting styles – even a medium base light bulb socket model. The most recent models have been upgraded to polyurethane potted power supplies with screw-on Lexan lenses, creating a 100% water-tight Type 4X enclosure. Application Note for 120 VAC Units 120 VAC units that are going to be switched on-off with a solid state relay should be ordered with option
/TRIAC-SW
to prevent false operation from snubber leakage current.
SPECIFICATIONS
Intensity
CLEAR
50 Candela
AMBER
40 Candela
BLUE
20 Candela
RED
10 Candela
GREEN
20 Candela
1.75 Joules per flash, power supply output 2.7 Watts
60 to 80 flashes per minute, -40F to +150F Temperature Range
All models UL Listed
5″ tall X 3″ Dia., 0.6 lbs.
TWO YEAR WARRANTY
480S-120
AC Cord & Plug Surface Mount
490S-120
1/2″ Pipe Mount Hub
495S-120
1/2″ Male Pipe Thread
485S-120
Medium Base Socket Screw-in
470SSGP-120
Wall Plate Mount (not shown)
490S-240
240 AC 1/2″ Pipe Mount
495S-240
240 AC Male Pipe Thread
485S-240
240 AC Medium Base Mount
Options & Parts:
G470
Guard
5001
Flashtube
470S-L
Lexan Lens
/TRIAC-SW
Leakage current bypass